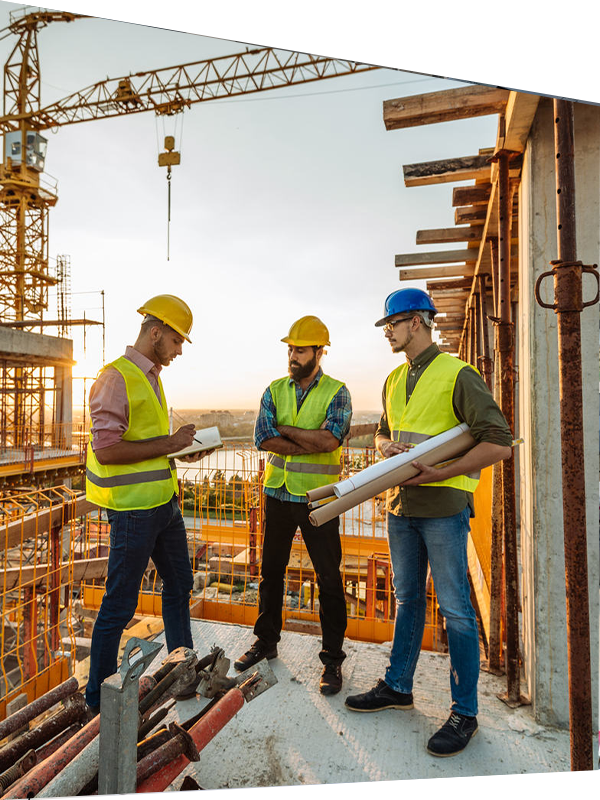 Construction projects undertake a lot of effort and attention. From building construction of a shopping mall to a single-family residence project, every project has a lot in its development phase that must be precisely coordinated. The highly trained experts from Delta Golf Overseas can manage all your construction projects to give you a hassle-free development experience.
Delta Gulf Overseas's construction consultants has earned a global reputation for their impartiality and thorough preparation, which has served them well in the course of negotiation, arbitration, and lawsuits on behalf of their customers. We have a skilled team of professionals who has expertise in building and engineering claims analysis and credible, objective witness evidence and reports.
Our trained professionals manage building projects for clients. When it comes to coordinating the many phases of a building project, Our construction program management teams work collaboratively with owners, architects, engineers, and other construction consultants to ensure a smooth build. The construction and engineering experts at our company are available to assist with every phase of a building project, from the initial idea to the last touches.
Delta Gulf Project management consultants play a crucial role in every project since they are staffed with experts in the field. Delta Gulf Overseas strives towards on-time and under-budget completion of all projects.
What Construction Management Services Do We Offer?
Choosing an Engineer or Architect

A Risk Analysis of the Contract

Reports on Building Feasibility

Cost-Benefit Analysis and Value Engineering

Examining Construction Bids

Evaluation of Requests for Alterations in the Earned Value Management Process

Analyzing the Critical Path of a Schedule (CPM) Scheduling

Complete Float Control

Measures Taken to Maintain High Standards

Assessments by LEED Consultants

Claim Filing and Dispute Avoidance Mitigation

Evaluations of Efficiency and Effectiveness
Management of building and construction projects is known as construction management. The primary difference between managing a construction project and managing any other kind of project is that construction has a goal. This implies that after construction is complete, the project will no longer be managed. Our seasoned professionals take care of every phase efficiently.
While the definition of project management may be something like, "managing resources throughout the life cycle of a project using different tools and procedures to regulate scope, cost, time, quality, etc.," those working in the construction business will need to broaden their perspective. When overseeing a construction project, our managers always account for a greater range of restrictions related to the design and construction of that project. We have collaborated with architects, engineers, public works planners, and city planners during the course of a project's lifecycle.
We know every phase is essential to the success of a project, and construction projects are no exception. Our skilled staff will take care of each step of the construction process, from conceptualization to planning to schedule to actual construction, which is in and of itself a difficult undertaking. We use only the best professionals in the construction sector. The expertise of Delta Gulf Overseas guarantees that all future attempts will be completed with the highest possible rate of success.
Your project's success is our first priority, and we will work tirelessly to ensure it.
Engineers and construction consulting specialists at Delta Gulf Overseas have the knowledge, skills, and drive to do exceptional work for their customers. We're a dynamic group of people who are justifiably proud of our tradition of excellence and our track record of exceeding customer expectations. We consider the means by which monetary success is attained to be equally as essential as the results themselves. Sustainable business practices and a dedication to combining responsibility with development and productivity are at the heart of our company strategy.
With Most Complex Management Projects?
Hire our Construction Project Management Specialist
And Get Ready to boost your profits Effortlessly!
Frequently asked questions
Frequently asked questions
Want to hire us but not sure? Here we've answered all your queries. Hope these FAQs clear all your confusion! For more information call us!
Why Choose Delta Gulf Overseas Professionals?
The time and money needed to construct your project are proportional to the construction productivity. Our seasoned professionals will oversee the whole job with precision, maximizing construction efficiency in the process. Our team of experts can design and implement measures to track progress on your project and find places for improvement. Professional in their approach, the consultants at Project Management Solutions are also excellent trainers and mentors who provide novel ideas that contribute to a streamlined operation. We have been assisting professionals including general contractors, subcontractors, architects, and others in the construction industry in developing more effective Project Management procedures. Our strategies provide beneficial outcomes for companies.